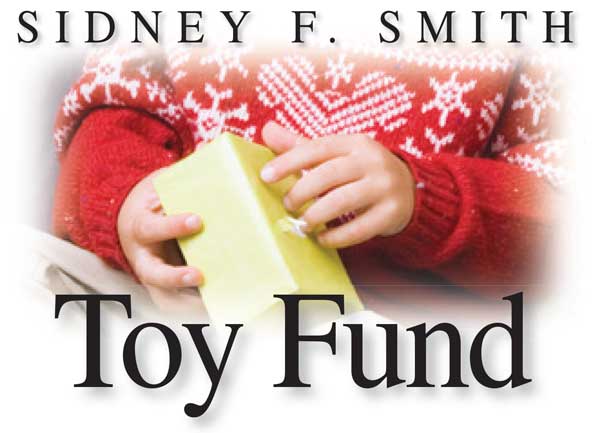 The Sidney F. Smith Toy Fund
Please enter the amount of your donation in the box below. No amount is too small!
Toy Fund
About the Sidney F. Smith Toy Fund
The Daily Hampshire Gazette's Sidney F. Smith Toy Fund provides certificates redeemable at participating local retailers to eligible families who can use them to buy holiday gifts at participating stores through Dec. 31, 2023.
Named after a former business manager at the Gazette, the fund began in 1933 to help families in need during the Depression. Today, the fund distributes vouchers worth $40 to families for each child from age 1 to 14. Eligible families must live in any Hampshire County community except Ware, or in the southern Franklin County towns of Deerfield, Sunderland, Whately, Shutesbury and Leverett.
The Daily Hampshire Gazette, verifies families' eligibility and covers costs associated with the drive, freeing all donations to fund the vouchers.
The following stores are participating this year:
A2Z Science & Learning Store
57 King Street
Northampton
Sam's Outdoor Outfitters
227 Russell Street
Hadley
The Toy Box
201 N. Pleasant Street
Amherst
The Eric Carle Museum of Picture Book Art
125 W Bay Rd, Amherst
World Eye Bookshop
134 Main Street
Greenfield
Plato's Closet
1472 Riverdale Street
West Springfield
Once Upon A Child
1458 Riverdale Street
West Springfield
High Five Books
141 N. Main Street
Florence
Blue Marble/Little Blue
150 Main Street, Level 1
Northampton
Odyssey Bookshop
9 College Street
Village Commons
South Hadley
Holyoke Sporting Goods Co
1584 Dwight St # 1
Holyoke
Comics N' More
64 Cottage Street
Easthampton, MA
Donations to the Toy Fund may be mailed to the Daily Hampshire Gazette, P.O. Box 299, Northampton, MA 01061, or made through our secure online portal https://toyfund.gazettenet.com.
Checks should be made payable to the Sidney F. Smith Toy Fund.